Treatments
What to expect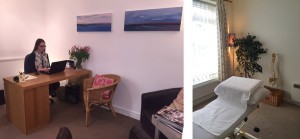 At the initial appointment a detailed case history is taken, focusing on the area of complaint, previous problems and information about the state of the patient's general health. The patient will be asked to remove certain items of clothing depending on where the problem is- e.g. top if it is a neck problem. The standing posture of the patient will be examined and some simple movements observed. This helps with diagnosis and determining contributing factors. If any special tests (e.g. reflexes, blood pressure etc.) are required they will be performed before the treatment. Exercises may be given and any advice the patient is interested in, e.g. work posture, car seat position, pillow height etc.
The initial visit takes 30-60 minutes with all subsequent appointments being
30 minutes, except for babies where follow up treatments are 20 minutes.
Treatment of babies
For babies a case history will be taken with information required about the pregnancy and birth. Please bring anything your baby likes i.e. dummy, toys etc. You are able to feed your baby during treatment. and we are situated on the ground floor so fully accessible for prams.
What can be treated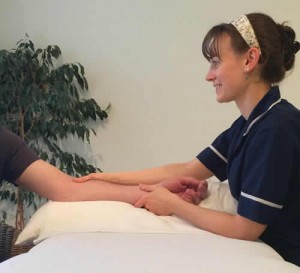 Whilst back and neck pain are the most common problems seen, the list below illustrates the wide range of conditions suitable for treatment:
Back pain/ache
Discal injuries
Sports injuries
Neck and arm pain
Hip, knee and foot problems
Shoulder, elbow, wrist and hand problems
Pain of arthritis
Postural problems
Stress related musculo-skeletal complaints
The list is by no means exhaustive, so if you are unsure whether osteopathy can benefit your condition please call.
Fees
Please note payment needs to be cash or cheque as we do not have a credit card facility at the clinic.
ADULTS AND CHILDREN OVER ONE YEAR OLD
Initial Consultation (45 minutes)   £50
Follow up appointments (30 minutes) £43
BABIES UNDER ONE YEAR OLD
Initial Consultation (45 minutes) £50
Follow up appointments (20 minutes) £30
Private Medical Insurance
We are registered with most private medical insurance companies, except for Bupa. We prefer to provide receipts for patients so that they are able to claim the funds back themselves.
Cancellation policy
We operate a cancellation policy where less than 24 hours notice will be charged at £20 and very short notice (less than 8 hours) will be charged at the full fee.